Parents and community members, including Students First VA, have been at that forefront of the battle against pornographic materials being given to minors in schools. Schools across the nation have been placing vulgar and obscene books into school libraries without the knowledge of parents. In Virginia Beach we have found dozens of these books and here is just a small list of several of the books available to minor children in VA Beach Schools. The website: BOOK LOOKS provides detailed reviews about these books. We will not publish the graphic details but if you want to see what is actually in the books, please check out the Book Looks website. We want to warn you that some of these are very graphic.
1. SAGA book series by Brian Vaughan: Extreme graphic and sexual content (in both pictures and words) including oral and anal sex from multiple views, orgies, masturbation, masochism, abortion, drugs, prostitutes, 6 yr old child sex slave. Crude language throughout. The F word may be the most used verb. There is graphic violence shown (including of children), hatred, bigotry. (These books, which were present in 3 VB High Schools, were challenged by Vicky Manning and they have been temporarily pulled from the shelves)
2. Lucky by Alice Sebold: Found in 6 VB High Schools.
3. The Perks of Being a Wallflower by Chbosky: Found in 3 VB Middle Schools and all High Schools
4. SOLD by Patricia McCormick: Found in 2 Middle Schools and all but one High School
Vicky Manning, a VBCPS School Board member and co-founder of Students First VA, has created a book rating system in the photo below that she is proposing to be implemented in Virginia Beach Schools. She has submitted this to the School Board's Policy Review Committee for consideration and is requesting that any new book that is placed in Virginia Beach schools as well as any book that is challenged by a community member or parent be given a number rating. Any book with a number rating of 3 would require parental permission for the minor to view or check out the book.
We will update you on the status of Vicky's proposal and if the Board will allow it to move forward.
This November we have the opportunity to change the majority on the School Board. We hope you will join us in our efforts to support candidates who will fight against pornographic materials being given to minors without parental permission and to get back to the basics of educating rather than indoctrinating children.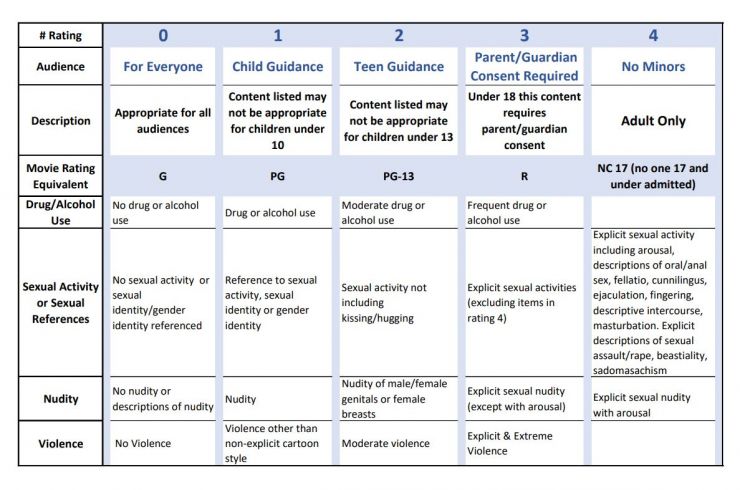 ---