MARK YOUR CALENDARS: Two VERY important votes will be taking place on the Virginia Beach School Board on Monday, June 12th (not being held on the normal Tuesday due to graduations). Please consider attending, speaking and sending emails to the Board.
Library Materials Policy 6-65: Seeks to provide transparency to parents regarding sexually explicit materials in school libraries. STUDENTS FIRST VA supports this policy!
We have made you aware in the past of the very sexually explicit materials in school libraries. To watch School Board member Vicky Manning's full statement at the last school board meeting, click here.
For a list of the materials of concern in school libraries, click here. To see the proposed policy 6-65, click here.
Transgender Resolution: Seeks to reject Gov Youngkin's proposed transgender model policies. STUDENTS FIRST VA does not support this resolution.
School Board member Jessica Owens has submitted a resolution that seeks to make a statement that the VB School Board will not adopt Governor Youngkin's Model Policies on Transgender students when it is finalized. To see a comparison of the current policies in place and the new proposed policies, go to this link. To see a copy of the proposed Owen's resolution, go to this link.
Please send an email to the School Board at SchoolBoard@vbcpsboard.com. Please kindly ask them to vote NO on Owen's Transgender Resolution and YES to Policy 6-65 to Protect Children from Sexually Graphic materials without parental consent.
Our approach is very different from other viewpoints on these topics (see below). We ask that everyone seeking to advocate on these issues remain respectful, loving, and kind to all, no matter their viewpoint. This is about advocating to protect children from harm and to support the rights of parents to not have secrets kept from them.
Meeting info and a link to sign up to speak (when it becomes available) can be found at this link.
Those in favor of the Owen's resolution are seeking to gather people in favor of the resolution and their theme is "Mean Girls Monday". We reject those who seek to cause harm and instill fear in the public.
This is a social media post by a leader of the local democrat party who is leading the effort in support of the Owens Transgender Resolution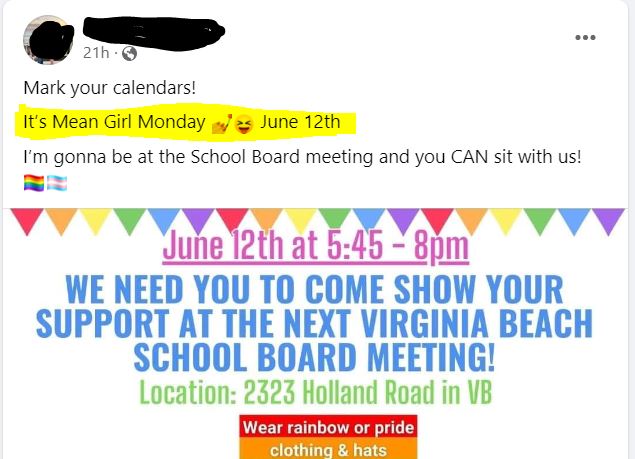 ---